Roll over image to zoom in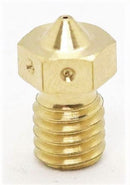 Description
Brass Nozzles - V6 The widest selection of high-performance brass nozzles on the market, engineered to 3D print perfectly smooth layers.
Featuring E3D's signature internal geometry, have optimal thermal properties for everyday printing, providing smooth layers for standard non-abrasive applications. Rated to a max temperature of 300°C.
Modify your 3D printer to print fine details or large parts with E3D's V6 nozzles. These nozzles are fully integrated into the E3D ecosystem of 3D printer parts, and are compatible with V6, Lite6, and Titan Aero. Compatible with Prusa 3D printers.
E3D nozzles are identifiable with markings on the flats of the hex head, please see the table below for identification.