Roll over image to zoom in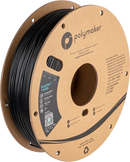 Description
PolyFlex™ TPU95 is a thermoplastic polyurethane (TPU) based filament specifically engineered to work on most desktop 3D printers. It has a shore hardness of 95A and can stretch more than 3 times its original length.
95 refers to the shore hardness of the material: 95 Shore A.
In 3D printing the shore hardness is only an indication on how flexible the printed part will be. However it is important to also take in consideration the infill percentage, number of walls, top/bottom layers and the layer height.
Printing Temperature: 210˚C - 230˚C
Bed Temperature: 25˚C - 60˚C
Printing Speed: 20mm/s - 40mm/s
Fan: ON

Direct Drive:
Retraction Distance: 3mm
Retraction Speed: 40mm/s
Indirect Drive:
Retraction Distance: 6mm
Retraction Speed: 60mm/s